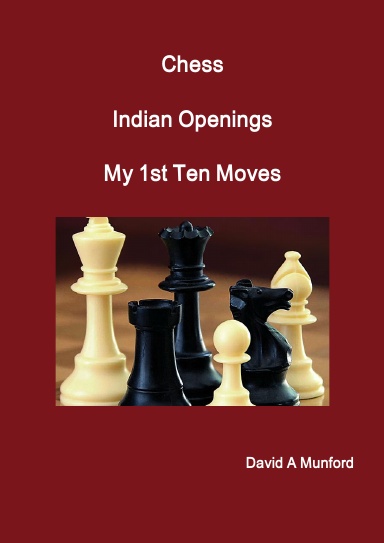 Third Edition published in 2018.


This

book catalogues games I played with Indian Openings (from 1972 to 2017). Openings included are:
Catalan Opening

Nimzo-Indian Defence

Queen's Indian Defence

Bogo-Indian Defence

King's Indian Defence

Grunfeld Defence

Old Indian Defence

Benoni Defence

Benko Gambit
As before, this book has been written to try and avoid repeating the same mistakes! By cataloguing my games, against the 'book' lines (shown in BOLD), you can see where either I or my opponent varied, and the consequences.

As can be seen, I have included all book lines, but only in detail where it relates to a game that I have played. Also, I hope to give an insight of a typical club strength player (over this period my grade has gone up from 137 up to 186 and back down to 172).
The games mostly come from league games, congresses and inter-club tournaments, and therefore include games with/without quickplay finishes, quickplay including time handicap games, but no lightning games.
Available from lulu.com (see link below), priced @ £7.77 + shipping